The 2020 Jeep Wrangler for Sale in Cheyenne
Getting where you need to go is one thing. Traversing over rough terrain while experiencing it all as a smooth ride is an entirely different matter. What some off-road vehicles achieve with difficulty, the 2020 Wrangler does it with style and power.
What's New for 2020?
The Jeep Wrangler adds innovative new features for the 2020 model year. 2020 brings forward the option of a diesel engine that offers tremendous fuel efficiency as well as serious low-end torque for towing and powering over rough terrain at low speeds. Using the 2020 Jeep Wrangler as your go-to towing power is now more reasonable than you might have imagined. More than ever, the trim levels of the Jeep Wrangler give you a bulk of options.
New Jeep Wrangler Inventory
Where Power and Performance Meet
Here are the power features that establish this year's performance specs:
The EcoDiesel: Fort Collins drivers will appreciate the 3.0-liter V6 engine block, pushing out a monstrous 442 pound-feet of torque. The diesel power in this storehouse gives the 2020 Jeep Wrangler a work balance between strength and endurance. It's an engine package that's intended to provide the power you need on those long, rugged trips outside of Laramie.
eTorque®: Being packed tight with 270 horsepower, the eTorque engine manages a towing capacity of up to 3,000 pounds. It does so through a stunning output of 295 pound-feet of torque. Relying on an electric motor to help with extra power when needed, the eTorque® engine is mild hybrid powertrain. It can smoothly handle stop and go traffic, which is a historic milestone for Wrangler lovers to witness.
This 2.0-liter engine also relies on a responsive turbocharger to deliver a robust 270 horsepower for all the get up and go you need to navigate the highways and trails in the Greeley area.
SelecTrac 4X4: Look to the Wrangler Sahara if you want to automate the 2020 Jeep Wrangler's continuous traction features. Without gauging the settings yourself, this advanced undercarriage adjusts between two standard modes. On demand, four-wheel drive kicks in when snow or rainy elements are present. Two-wheel drive is automated when the conditions are clear and stable.
Tru-Lok Differentials: The transition of weight in a Jeep Wrangler adapts to both short and sharp turns. As automotive speed is generated and the inertia of this compact SUV shifts, its differential is allowed to spin at a faster or slower rate than the drive shaft. By using this Tru-Lok system, the undercarriage itself can gauge what type of increases or decreases are needed for the right shift in momentum.
A Look at the Interior Specs
From available treated leather to supple upholstery, Jeep has worked tirelessly to ensure that outdoor adventurers never feel like they've left the warmth of home. Your creature comforts come in a spectrum of colors and trim patterns. Heritage Tan is a signature color of the Jeep brand, and whether you opt for the Sahara, Rubicon or Sport, Fort Collins drivers can have this tan in leather or synthetic.
An available weatherproof subwoofer along with speakers in the overhead chassis create unique arrangements of sound, which is powered by Alpine Premium Audio. The 2020 storage features of the Wrangler include an updated Trail Rail, Utility Grid and a hidden floor compartment in the trunk. True adventurists never have to leave this vehicle when they're trekking in the secluded crevices of nature's paradise.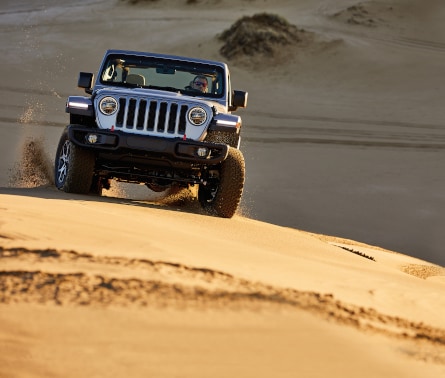 A Touch of Safety with Smart Technology
This machine is currently packed with 75 safety features, which brings the 2020 Jeep Wrangler up to the highest standard of security. You not only get Blind Spot Monitoring and Rear Cross Path Detection, the wireless SiriusXM Guardian alarm system comes prebuilt into the dashboard. This program sends you real-time notifications regarding theft and break-ins. You can manage the general settings to send text or emails on demand.
Exterior Trims and the Detailed Options
If you're in the market for a rugged and off-road-ready SUV for conquering the hills and highways around Cheyenne, you'll want to see the inventory of 2020 Jeep Wranglers at Cowboy Chrysler Dodge Jeep Ram to see the specs for yourself. Be ready for a live showcase, so consider which of these Wrangler models best fit your lifestyle for 2020:
Wrangler Sport. Whether in a two or four-door chassis, you can find this basic model in eight fun colors along with a hard or soft top to go. 
 
Wrangler Sport S. The Jeep Wrangler Sport S has a larger selection of available wheels and a choice of four different tops to choose from. They include the tan Sunrider, the three-piece hardtop, the premium black soft top, and the black Sunrider.
 
Wrangler Sahara. This model is upscale and a little left-of-center, available in funky colors like Punk'n Metallic, Bikini Pearl and Ocean Blue. This year's Sahara is only made within a four-door chassis.
 
Wrangler Rubicon. The 2020 Jeep Wrangler Rubicon is prized for its prodigious off-road capability. Though all Wrangler models break the mold regarding 4X4 performance, this model is made for the toughest terrain and the wildest trips.
Test Drive the 2020 Jeep Wrangler in Cheyenne
With so many options to customize your off-road experience, the 2020 Jeep Wrangler is an obvious choice for the adventurous SUV shopper. Contact Cowboy Chrysler Dodge Jeep Ram today to schedule a time to come in and take the 2020 Jeep Wrangler for a test drive!