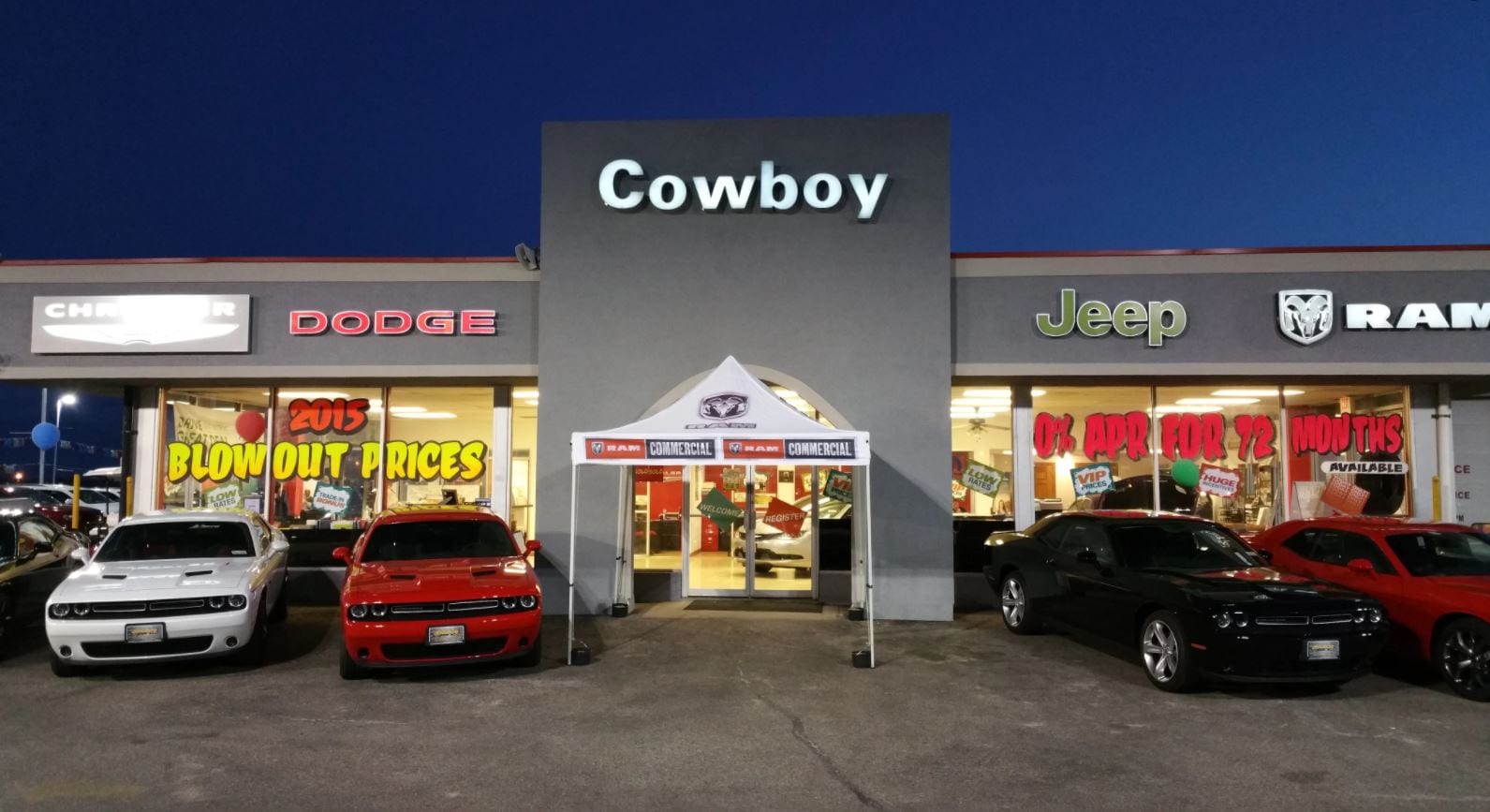 Established on July 24, 1981, we've granted thousands of customers the thrill of getting out onto the open road in a fantastic vehicle.  Furthermore, we've prided ourselves on offering second-to-none after sales service on all makes and models on our floor.  Our Service Department is Chrysler 5 Star Certified; a great honor achieved by maintaining a fast and friendly full-service operation. They're equipped to perform all scheduled maintenance, including Oil Changes, Full coolant flushes, Fuel injection service, tire rotations and brake jobs. All of our technicians are ASE Certified and attend annual refresher courses. They are here to help and answer your questions.  Our Diesel Techs are truly the best in the area; they know the 5.9L 12 Valve 5.9L 24 Valve and 6.7L Cummins engine through and through. They also have a great knowledge of the Duramax and the Powerstroke.
Our Service center also includes a Detailer and a Full Body-Shop - Cowboy Collision. Cowboy Collision welcomes all insurance providers and will prepare FREE ESTIMATES. The painter is able to match factory paint and create custom paint jobs, all with a lifetime guarantee!  
Getting Acquainted with our RAM, Jeep, Dodge and Chrysler Dealership, Serving Cheyenne, Laramie, Pine Bluffs and Fort Collins
At Cowboy Dodge, our goal is to exceed your expectations at all times. The moment your walk into our showroom, which features the latest and greatest  models available, we intend to help you find a new or used car you'll love. But, our relationship doesn't end there.
Once you drive your new vehicle off the lot, you want to make sure that you get as much good use of out of it as possible. That's where our car service and repair center comes in. If you buy or lease a vehicle from us, you're getting quality maintenance with certified RAM, Jeep, Dodge and Chrysler parts that are also available for purchase. Basically, you'll know your vehicle is in good hands, from beginning to end.
You're also in good hands with our team of RAM, Jeep, Dodge and Chrysler lease and loan specialists. They take the stress out of the situation and work to make sure you have a pleasurable experience, while also meeting your financial needs.
So, what's the quickest and easiest way to experience this unmatched service? Cowboy Dodge can easily be contacted online or by phone. Or, swing by and see us in person. Our showroom is conveniently housed at 1121 East Lincolnway Cheyenne, WY, and we're are always happy to chat about new vehicles and answer any questions you might have.